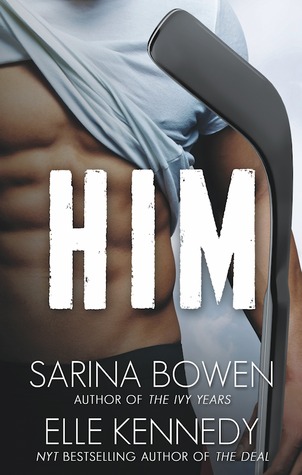 5 Purple Skittles stars
I'm so in love with this book I have three ARCs begging for me to be a good reviewer and start them but I don't give a shit because I need to read "Us" before I even take the next breath.
Now that that's out of the way, I'll start by saying that I knew this was going to be good, even if it was my first book by Bowen. Still, Kennedy as a co-author was highly promising. And what do you know, they totally delivered.
I haven't read tons of MM books, the few I have on my shelves either belonged to a series or… well, that's it. I don't know why, though, because I've liked all of them and loved Hebert's #Junkie and #Rev. But after "Him" I'm going to make sure to rectify that.
Wes and Jamie are one amazing duo. Their banter was so enjoyable and their interactions weren't devoid of all those strong feelings that honestly are the foundations of romances. We get to see them jealous, heart-broken, happy, confused. Also their background story was a magnificent way to introduce the characters and to create a starting point for their relationship. It takes a bit a the beginning to find out what happened in their past that drove a wedge between them, but it was a great narrative device in my opinion because at first we don't see them interacting since they're apart, physically (and mentally, too) so the little flashbacks really helped to get in touch with who they were as friends.
Wes' character is probably my favorite. He's shameless, he's fun, he has the craziest ideas. I loved Jamie too, though, and I appreciated how his inner turmoil over his sexuality never crossed the drama-llama line. He's a laid-back Cali guy through and through.
All in all, this book was outstanding. Even if the story mainly revolves around the two of them and their budding relationship, we have amazing side characters, family backgrounds that fit with who the characters have become, and a plot that is really well-structured. The drama level wasn't even that high, which I appreciated. It was one of my worries, but instead the happy times outnumbered the sad or angry ones by a ton, and I guess this is all because the two MC did comunicate with each other. Of course there were a few bumps in the road and there was a moment three quarters in when I was tempted to rate this novel four stars because there were still lots of pages to go and I didn't want it to turn into a replica of the ending of "The Deal". Instead, soon after that blasphemous thought, things smoothed over and I enjoyed the rest of the book so much I almost cried when I read the word epilogue.
So, I guess that's it. It was a wonderful, sizzling novel with awesome characters and an incredible style. Being inside these guys' minds was so enjoyable and amusing, and sexy too! I fell in love with both MCs and their love story definitely falls into the "EPIC" category. Now I'm off reading "Us", fingers crossed it'll be as good as this one!
"Our mouths fit together so perfectly. Every time we kiss, I fall even more in love with him, and it has nothing to do with sex or lust. It's him. His closeness and his scent and the way he soothes me"
Where to find me: