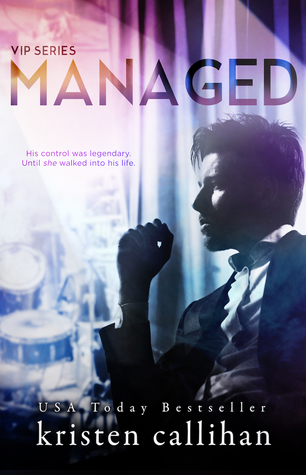 Managed (VIP, #2)
by Kristen Callihan
5++++++++++++++++++++++ "You're my warmth" stars
Oh God.
Oh My God.
This books was so, so, so good. Tugged at all the right strings. I knew I'd love Gabriel from book 1 and not just because of his resemblance to mr. God Among Humans himself. His character was outstanding, so round and loyal to the man we'd come to know in Idol, yet surprising. I simply adored to see him struggle to open up to Sophie, to be overwhelmed by his feelings for her and not having a single clue how to address the situation. He was perfect. Sweet, caring, yet perfectly in line with his "cold" attitude. He was a joy to read about from the very first page, on the plane… sigh.
Sophie was a surprise too. I wondered what kind of heroine Callihan would pair up with someone like Gabriel. And Sophie was the perfect match. She's fun, she's sunny, she's this bubble of joy and hilariousness. Without reaching the negatively OTT heights of Clayton's Unidentified Redhead's craziness, Sophie was the perfect blend of a human being, with her mistakes, her insecurities and her strengths.
I also loved how the story proceeded. The slow burn was really slow for Callihan's standards, yet I never got bored or had the sensation that things weren't progressing. Their relationship just kept growing and growing from the very first paragraph to the very last. It was this terrific crescendo of feelings that had my heart bursting.
Kudos also for the side-characters. This authors is a master at characterization and I'm dying to read the stories of all the other band members too. I hope Rye and Brenna are next. All the group scenes were priceless and so damn funny!
Moreover, I loved how dynamic this book was. Still focusing on their relationship, the setting kept changing from city to city with the band's tour, and there was always something happening.
It wasn't devoid of angst or drama, but I absolutely lurved how the happy times greatly surpassed the angsty-sad-angry ones.
Last, but not least, the sexy times. It took a while to get to them, but the sexual tension that lead up to them was so charged it was like the first part was one long session of foreplay. And when they finally got to it, Holy Guacamole. I mean, Gabriel is gorgeous, but it's his attitude that truly did me in. On the outside, he's cold, always in control, uncompromising, but his POVs told a completely different story. And when he's with Sophie, we get to see the real him. It's like one of those choco-balls treats that are all over the internet now. Sophie is the scalding hot sauce that is poured over the thin ball of chocolate, that melts it and reveals the real goodness inside.
I would recommend it to all romance lovers, because this books is romance at its best. Gabriel has secured a spot in my all-times book boyfriends and the banter between the two was so funny it kept me laughing throughout the novel.I will certainly re-read this because of the good feelings that it gave me and the abundance of swoon moments. It was one long, gratifying joy-ride with great company."Managed" is one of those books that you want to read over and over again because every single thing from the plot to the characters, side and main, the feelings, the setting, the style, was so incredibly good it feels like you've lost a limb when you read the word "end".