Hopping around blogs, I found out about this tag at Lia@Lost In A Story. So I decided to put my 2 cents in and see what comes of it.
Totally should have gotten a sequel
It's been ages since I read this book, and still find myself thinking about Sam and Jase at times. Yes, it ended on a HEA, but I'd probably give my right ovary to read about them once again. Did he get a scholarship for football? How is the whole family doing? How are their college years going to be? I'd love to have the answers to these questions
Totally should have gotten a spin-off series
The Kate and Ian duet was humorous, sexy and it got me obsessed with hackers and social engineering. Maybe the term spin-off is not exactly what I'm talking about, as there aren't side characters I'm particularly interested in, but I'd really like to read more about this world by Garvis Graves even if with totally different characters.
An author that should totally write more books
Easy one. Jeaniene Frost. Favorite author, unfortunately slow writer. Still love her anyway, and would give her my first born if she weren't afraid of kids.
A character that totally should've ended up with someone else
Logan deserved way better than the uptight, clueless heroine in To Love and To Cherish. For 8 years, everyone knew he had a thing for her and she was the only one not only oblivious to it, but not even entertaining the idea of them possibly being together.
Totally should have ended differently
I think we all know what I'm talking about here. Although a little birdie might have told me miss Ward has still some aces up her sleeve regarding a certain Shadow… so I reserve full judgement for until after the whole story has been told.
Totally should've had a movie franchise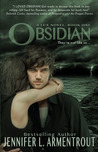 I would pay a pretty penny to see Daemon Black in 2 or 3D. Though I think a tv series would be better given how there are five books in this series. Plus, after the old goodie "Roswell" there haven't been nearly enough alien romances on TV.
Totally should've had only one POV
Although I didn't like Cassie 100%, I found the other POVs dispersive and I warmed up to Zombie only in the end, if I remember correctly. There were just too many shifts in situations and I lost the thread of the narration.
Totally should have had a cover change
What's up with this guy's neck? I'm serious! He looks like the exorcist. This isn't hot. It just looks weird and uncomfortable. Which is a damn shame, because the novel is amazing (Duh, Jeaniene Frot wrote it).
Totally should have kept the original cover
The book is not one of my fav, but I think the old cover better showcases the kind of book this is. There's a celebrity, hence the Hollywood sign in the background and enough sparkles to hint at a romantic comedy. The new one instead doesn't give anything away, and the sunflower I can't even remember what it was about. I guess it led me to believe it would be a more serious book than it was in reality.
Totally should have stopped at book one
Book 1 had awed me with its quirky simplicity, with the uncomplicated quality of the plot, and abundance of funny banter and swoony moments. Book 2 was a DNF for the mere fact that all I'd loved about book 1 was missing. Annoying characters and boring plot. Nuff said.
So… these are my TOTALLY SHOULD HAVEs. If you want to join the crazy wagon, consider yourself tagged.
Peace and read on!