I'm so loving these tags! Each one of them is unique and titillating. So thank you so much Mia at Mia The Book Addict for nominating me
Rules:
Mention where you saw the tag/thank whoever tagged you
Tag Zuky and Mandy so they can check out the wonderful Princess fun throughout the blog world (Here are their links: Mandy & Zuky )
Play a game of tag at the end!
SNOW WHITE – THIS BOOK (LIKE THE MOVIE) STARTED IT ALL
Favorite Debut Book From an Author 
Legally Yours (Spitfire #1) by Nicole French
I read this book recently, a couple months ago and fell completely in love with Skylar and Brandon. Their love story is unconventional, modern and yet romantic.
---
CINDERELLA – A DIAMOND IN THE ROUGH
Just Like Cinderella, You Either Didn't Expect Much Out of This Character in the Beginning But Turned Out to Be a Total Jem
Good Boy (WAGs #2) by Sarina Bowen and Elle Kennedy
In "Us", Blake had been an annoying party-pooper, always interrupting Wesmie's moments, so before starting this book I knew I'd love the writing style but I had my reservations towards him. Now, he's one of my top book boyfriends of all times.
---
AURORA – SLEEPING BEAUTY
A Book That Makes You Sleepy or Just Could Not Hold Your Attention
Black Ice by Anne Stuart
I started it hoping for a thrilling, fast paced romance on the run. I ended up yawning my way through it and finding the ending anticlimatic.
---

ARIEL – UNDER THE SEA
A Book With a Water/Ocean Setting
Kissing Eden by TA Foster
The book is set on the isle of South Padre, which is almost like a secondary character. There are bonfires on the beach, romantic strolls on the shore and… well, the ocean.
---

BELLE – BEAUTY AND THE BOOKS
Name a Book With the Best Bookworm/Book Lover

Royally Matched by Emma Chase
The heroine is a book lover, librarian, with a cherished collection of first editions and my favorite romantic moment was when the H brought her a book after damaging it. Cutest gesture ever although I'd wanted to bash his skull in for ruining it in the first place.
---

JASMINE – THE THIEF AND THE PRINCESS
Name Book with an Unlikely Love Story (Either in Terms of Romance or a Book You Didn't Expect to Love So Much)
 
This is War, Baby by Webster
An 18 years old girl and the genius clean freak guy who cluelessly bought her as company at a slaves' auction. What. An. Unlikely. Pair. Yet I adored them! Plus, it was my first dark romance.
---

POCAHONTAS – THE REAL LIFE PRINCESS
Name a Book that is Based on a Real Life Person You Want to Read/Have Read
 Okay, so it's not a biography. Yet the author, a graphologist, talks about some cases she was presented with. This book is instructive and spell-binding. I devoured it.
---

MULAN – THE PRINCESS THAT SAVED HER COUNTRY
Name the Fiercest Heroine You Know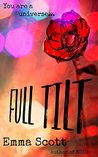 Because what Kacey did is the most terrifying thing I could ever imagine a person doing.
---
TIANA – THE PRINCESS WITH THE COOLEST AND MOST DIVERSE CREW
Name a diverse book whether it is a diverse set of characters (like Tiana's group of Naveen, Louis, Ray, and more) or just diverse in general
#Rev (Gearshark #2) by Cambria Hebert
Well, it's MM. It's supposed to be diverse, right? I'm not gonna go on and rave on how amazing it is because I've already said it so many times people are gonna come at my house with pitchforks.
—————————————————————————————————-
RAPUNZEL – LET YOUR LONGGGGGG HAIR DOWN
Name the Longest Book You've Ever Read
I'm sorry, I have no idea! I tried with the GR's shelf setting thing, but it gives me weird results. Maybe Wolfsong… Maybe one of Ward's…
————————————————————————————
MERIDA – I DETERMINE MY OWN FATE
A Book Where There is No Love Story/Interest or Isn't Needed
I only read romances so I had to dig into my college-related books. I used this for my thesis and it was really interesting, being composed also of many different articles regarding diverse facets of the topic besides the basic theory.
———————————————————————————————
ANNA/ELSA – FROZEN HEARTS
A Book in a Winter/Cold Setting
The two MCs meet during a hail and get stuck together in the snow. It was my favorite part of the book!
————————————————————————————————–

MOANA – HOW FAR I'LL GO
A Character That Goes on a Journey
A is For Alpha Male by Laurel Ulen Curtis
In this hilarious and upbeat rom-com a mother and a daughter go on a trip to find their perfect Kristen-Ashley-like alpha males, after writing a list of must-have qualities that had me cracking up. Super recommended if you need a pick-me-up.
---
The Tag is over. It's too late here for me to tag all the amazing bloggers I know and think would like to do this, so I leave it open for whoever wants to join. Also, I'm sure the usual suspects already know they're automatically tagged 😉