Top Ten Tuesday is an original weekly feature created by The Broke and the Bookish.
This week's topic is the top ten of the best books we've read in this first half of 2017 (seriously, we're already half-way. Where has the time gone?)
So this is my top ten (not in order. I'm not up for that kind of stress). Since I've read lots of amazing books so far this year, I chose the ones that I absolutely adored and also those which surprised me, maybe because I hadn't liked their author's style before (ahem, Emma Chase), or because I had reservations regarding the characters (*coughs* WAGs *coughs*) or again I thought they'd be something completely different, too sweet, or too cliché, and yet I was wrong and they were crazy good!
Good Boy (WAGs #1) by Sarina Bowen and Elle Kennedy
Hosting her brother's wedding for an MVP guest list is the challenge of Jess Canning's life. Already the family screw-up, she can't afford to fail. And nobody (nobody!) can learn of the colossal mistake she made with the best man during a weak moment last spring. It was wrong, and there will not be a repeat. Absolutely not. Even if he is the sexiest thing on two legs.

Blake Riley sees the wedding as fate's gift to him. Jess is the maid of honor and he's the best man? Let the games begin. So what if he's facing a little (fine, a lot) of resistance? He just needs to convince the stubborn blonde that he's really a good boy with a bad rap. Luckily, every professional hockey player knows that you've got to make an effort if you want to score.

But Jess has more pressing issues to deal with than sexy-times with a giant man-child. Such as: Will the ceremony start on time, even though someone got grandma drunk? Does glitter ever belong at a wedding? And is it wrong to murder the best man?

Caution: May cause accidental aspiration of tea or coffee. Do not read in a public place where loud laughter is inappropriate. Contains hot but hilarious hockey players, puppy cuddling and a snarky pair of underwear.
Royally Screwed (Royally #1) by Emma Chase
Nicholas Arthur Frederick Edward Pembrook, Crowned Prince of Wessco, aka His Royal Hotness, is wickedly charming, devastatingly handsome, and unabashedly arrogant; hard not to be when people are constantly bowing down to you.

Then, one snowy night in Manhattan, the prince meets a dark haired beauty who doesn't bow down. Instead, she throws a pie in his face.

Nicholas wants to find out if she tastes as good as her pie, and this heir apparent is used to getting what he wants.

Dating a prince isn't what waitress Olivia Hammond ever imagined it would be.

There's a disapproving queen, a wildly inappropriate spare heir, relentless paparazzi, and brutal public scrutiny. While they've traded in horse drawn carriages for Rolls Royces, and haven't chopped anyone's head off lately, the royals are far from accepting of this commoner.

But to Olivia, Nicholas is worth it.

Nicholas grew up with the whole world watching, and now Marriage Watch is in full force. In the end, Nicholas has to decide who he is and, more importantly, who he wants to be: a King… or the man who gets to love Olivia forever.
#Finish Line (Gearshark #4) by Cambria Hebert
Every race has a finish line.
Where you go after you cross it is what matters most.
And sometimes, that's the most intriguing.
Here at GearShark, we've featured lots of drivers.
All of them are well acquainted with the finish line.
And as race fans, we're well acquainted with cheering as they cross it.
What we aren't privy to is riding shotgun, seeing where they drive once the race is over.
Our interviews barely scratch the surface,
offering just a glimpse of the men and women behind the wheel.
The discovery of vanished Motocross sensation Jayson Hamilton,
who has been right under our noses for years, proves secrets abound.
It's time to dig deep. Look beyond the racetrack at the drivers who continue to pique our interest. In addition to scoring an exclusive, all-access interview with the elusive Jayson Hamilton (his first and only since the death of his fellow racer and partner Matt Lewis),
we've caught up with some of our most popular featured men and women in the racing world.
Where are they now?
Who are they now?
What do these hot commodities do when they escape the spotlight?
Rumors of weddings, babies, and new tattoos swirl through the media on a weekly basis.
And though we're headlining the hashtag #Finishline, we're far from finished.
In fact, we're just getting started.
This newest issue of GearShark is jam packed with everything you've been dying to know…
and it just might be our biggest page-turner yet.
Full Tilt (Full Tilt #1) by Emma Scott
I would love you forever, if I only had the chance…"

Kacey Dawson has always lived life on the edge–impulsively, sometimes recklessly. And now, as lead guitarist for a hot up-and-coming band, she is poised at the brink of fame and fortune. But she is torn between wanting to be a serious musician, and the demons that lure her down the glittering, but alcohol-soaked path of rock stardom. A wrecked concert in Las Vegas threatens to ruin her career entirely. She wakes up with the hangover from hell and no memory of the night before, or how she ended up on her limo driver's couch…

Jonah Fletcher is running out of time. He knows his situation is hopeless, and he's vowed to make the most of the handful of months he has left to him. His plans include seeing the opening of his glass installation at a prestigious art gallery…they do not include falling in love with a wild, tempestuous rock musician who wound up passed out on his couch.

Jonah sees that Kacey is on a path to self-destruction. He lets her crash with him for a few days to dry out and get her head on straight. But neither of them expected the deep connection they felt, or how that connection could grow so fast from friendship into something more. Something deep and pure and life-changing…something as fragile as glass, that they both know will shatter in the end no matter how hard they try to hold on to it.

Full Tilt is a story about what it means to love with your whole heart, to sacrifice, to experience terrible grief and soaring joy. To live life with all its beauty, and all its pain, and in the end to be able to smile through tears and know you wouldn't have changed a thing.
The Hot Shot (Game On #4) by Kristen Callihan
First we were friends. Then we were roommates. Now I want more…
What can I say about Chess Copper? The woman is capable of bringing me to my knees. I know this about five minutes after getting naked for her.
No one is more surprised than me. The prickly photographer my team hired to shoot our annual charity calendar isn't my usual type. She's defense to my offense, a challenge at every turn. But when I'm with her, all the regrets and darkness goes away. She makes life fun.

I want to know Chess, be close to her. Which is a bad idea.

Chess is looking for a relationship. I've never given a woman more than one night. But when fate leaves Chess without a home, I step up and offer her mine. We're roommates now. Friends without benefits. But it's getting harder to keep our hands off each other. And the longer we live together the more I realize she's becoming my everything.

Trick is… Now that I've made her believe I'm a bad bet, how do I convince her to give this player a true shot at forever?
Royally Matched (Royally #2) by Emma Chase
Some men are born responsible, some men have responsibility thrust upon them. Henry John Edgar Thomas Pembrook, Prince of Wessco, just got the motherlode of all responsibility dumped in his regal lap.

He's not handling it well.

Hoping to help her grandson to rise to the occasion, Queen Lenora agrees to give him "space"—but while the Queen's away, the Prince will play. After a chance meeting with an American television producer, Henry finally makes a decision all on his own:

Welcome to Matched: Royal Edition.

A reality TV dating game show featuring twenty of the world's most beautiful blue bloods gathered in the same castle. Only one will win the diamond tiara, only one will capture the handsome prince's heart.

While Henry revels in the sexy, raunchy antics of the contestants as they fight, literally, for his affection, it's the quiet, bespectacled girl in the corner—with the voice of an angel and a body that would tempt a saint—who catches his eye.

The more Henry gets to know Sarah Mirabelle Zinnia Von Titebottum, the more enamored he becomes of her simple beauty, her strength, her kind spirit… and her naughty sense of humor.

But Rome wasn't built in a day—and irresponsible royals aren't reformed overnight.

As he endeavors to right his wrongs, old words take on whole new meanings for the dashing Prince. Words like, Duty, Honor and most of all—Love.
Stay (WAGs #2) by Sarina Bowen and Elle Kennedy
Can you fall in love with someone you've never even met?

Hailey Taylor Emery has a hunch that her favorite client at Fetch—an anonymous virtual assistant service—is actually hockey star Matt Eriksson.

Although it's against the rules for her to check his file, she's 95% sure she spends at least part of each day texting with her lifelong crush and catering to his every need. Still nursing a wounded heart thanks to her recent breakup, Hailey is perfectly content with some harmless online flirting… until she has to meet her client. Face to face. Cue: utter panic.

Matt Eriksson is no stranger to heartbreak. He's still not over the destruction of his marriage, and it sucks to be the only guy on the team who knows the truth—that hockey and long-term relationships are a toxic mix. He barely sees his kids, and dealing with his ex makes him feel insane. The only person in his life who seems to understand is someone who won't show her pretty face.

But it's nothing that a pair of fourth row hockey seats can't fix. Hailey can't resist the offer. Matt can't resist Hailey. Good thing he doesn't have to. Fire up the kiss cam!

Warning: Contains rabid hockey fans, misunderstood dick pics, hockey players at the opera and exploding ovaries.
Stripped (Travesty #2) by Piper Lawson
"I've been in New York four weeks. I'm behind on the spring line, days from homeless, and getting sued by the only person in the whole damn city who's seen me naked."

Ava Cameron has stars in her eyes. When the feisty designer moves to NYC after graduation with her best friend, things are finally clicking into place.

But now their brand new label, Travesty, is under attack.

The man leading the charge is the hottest hookup Ava ever had. One she never wanted to see again…

Nate Townsend might be from the right schools, the right neighborhood and the right family. But under the surface, his scars run deep.

When the society prince and the loud designer come face to face on a case that could decide Ava's future, sparks fly.

Nate's not about to let Ava forget she's the only person who knows his secrets. And Ava's walking the line between getting Travesty back on track and being dragged into the gutter by one stubborn young lawyer planning to take her down.

If Nate Townsend didn't make the gutter look so damn good…
Legally Yours (Spitfire #1) by Nicole French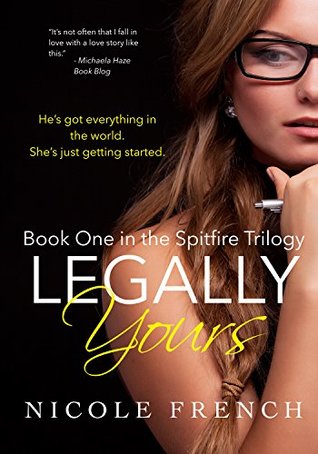 Skylar Ellen Crosby is a typical redhead: blunt, passionate, with a bit of a temper. Okay, so maybe she's a little neurotic too. She just can't afford to be distracted these days, especially not by the immature boys that keep asking her out. At the end of her third year at Harvard Law, all Skylar wants is to figure out her next steps: ones that will hopefully include a job, an apartment, and enough money to help her father stop getting into trouble. She simply has no room for romance, especially the kind that might break your heart. But on a dark, snowy night, when she's stranded in the living room of the notorious CEO of Sterling Ventures and one of the best attorneys in Boston, all of those boundaries are about to be knocked down.

Brandon Sterling never believed in fate. A man of his own making, he firmly credits his successes to hard work. How else could you explain his rise from the poorest of backgrounds in South Boston to becoming one of the most successful entrepreneurs in Boston? Living in the lap of luxury, it never mattered to him that increasing success meant increased isolation in his big house on Beacon Street. After all, when you have everything, everyone else always wants something. That he walks in to find a gorgeous redhead sitting on his windowsill. Suddenly, the idea of love at first sight seems like the most plausible thing in the world…if only the one person he wants to give his heart to would actually take it.

Together, Skylar and Brandon have the kind of passion few hope to find, but things keep getting in their way. Between school, business, her father's gambling troubles and Brandon's history of personal struggle, will their complicated lives prevent them from making it work together? Or, as they both suspect somewhere deep down, have they finally met their match in each other's hearts?
Room for You (Cranberry Inn #1) by Beth Ehemann
Four years ago, my dreams were shattered in an instant.

I tried to pick up the pieces and glue them back together the best I knew how, but something was always missing.

A father for my two girls.

But then, Brody Murphy landed on my doorstep, literally. He was a carefree, playful hockey player who barged into my life and messed with my head. He left me more confused than I had ever been.

What if the one thing I thought I needed was the only thing holding me back?
Damn, those 10 spots went away like popcorns on movie night in a dorm!
Now, TTQ (This Tuesday's Question… [do the day of the week support the Saxon Genitive?]) what are your 10 best books you're read this year?