Hello folks! Today is the 15th, so it's time for another blogging bit. "Blogger Bits" is a bimonthly feature revolving around a topic in the book blogging world. At the end, you'll also find the link to my fellow bloggers' articles about today's topic, which is…
Book/Series I've read more than once.
Now, a little intro. Before I got an e-reader and discovered Amazon and its endless possibilities, I used to read and re-read books and series until I knew them by heart. Now, with books being thrown my way from every direction, I rarely re-read them. Hence, lots of the books listed here will be from my early years.
Let's start with the standalones:
"The Friend Zone" by Callihan. This book is one of my favorite friends to lovers and Callihan is on my podium for "favorite romance novelists". I re-read it last year while one a book slump and even though it wasn't like the first time, it still managed to hook me.
Would I re-read it again? Probably not. It's too fresh in my mind, but I wouldn't mind re-reading the other instalments in the series.
"Fantasy Lover" by Sherrylyn Kenyon. I first read this book when I was 15 (*hides and blushes*. I know!!!) Still, I've read many of the Dark Hunters' books more than once. Each story is different and original, each character unique and irreplaceble. Sherrylyn is very inventive and her books are never boring. Even after the second or third re-read, they still manage to make me swoon and fan myself.
"Wait For You" by J.Lynn. This is the first book in the first NA series I ever read. To be honest, I had to re-evaluate this book. At first, I was bummed by Cam's reaction to Avery's wariness and her keeping secrets. Then, I read "Trust In Me", which is the book told from Cam's POV and fell helplessly in love with it because it was lower on angst, which led to a re-read of the original and rekindled my love for the characters and the story. Would I re-read it now? Yes, I definitely would. It's been a while and these characters wiggled their way to my heart. I still remember them fondly and would love to make a trip to their world once again.
"First Drop of Crimson" by Jeaniene Frost. You didn't think I would leave this woman out of my re-reads, did you?
This is a spin-off standalone, featuring Bones and Cat's best friends, Spade and Denise. I loved this book so much, their relationship being very different from Cat and Bones'. Still, it completely captivated me and seeing Spade falling for a human! ha, it was endearing how he warmed up to Denise and her beating heart. Would I re-read it? Any day of the week, twice on Sunday.
---
Series: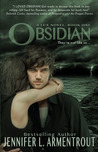 So, last year Armentrout released the first three books in the series told by Daemon's POV. After that kind of re-read, I picked the original back up and managed to get to the fourth book before abandoning. I was going through a lot of stuff personally and didn't have much time to read so I needed something fresh and new to get out of that reading slup. Also, I'm not that into YA anymore, even though this series is amazing and I still freak out when I see it on other people's feeds or blogs.
I actually have this series in hardback because it came out before I got an e-reader. All but the last one. I still think of it fondly and even though lots of readers have bashed it, it will always have a special place in my heart. I'm probably not going to re-read it again, but the mysterious atmosphere coupled with the swoony and controverse hero totally got me. Admittedly, the second book in the series wasn't as good as the other two, but I loved how much suspense and ambiguousness there was. It's one of the few series that took me completely by surprise when revealing who one of the villains' was.
I read the first 5 books twice. They are hands down the best. I think Ward got her mojo back with the BDB Legacy books and her latest in the original series, like "The Beast" or "The King". Her world is always a joy to get lost into and every time a new book comes out of the BDB series it's like coming back home. Would I re-read them? Some of them… yes, like Zsadist or Vicious' stories, or my favorites Wrath and Rhage.
Hello, again! Night Huntress Series. I don't know how many times I've read it. I even have paperbacks of some of them. This world and characters will always feel like home away from home to me. Whenever I feel sad or need a pick me up, I read some of the scenes from these books. Would I re-read them? Absolutely. Probably not the last 2, which aren't as great as the first 5, but you never know. I may binge read the whole series again one day.
Night Prince Series by the same author as above, which I will not mention not to sound too obsessed (even though I'm not fooling anyone). This series is different from the Night Huntress, because it has always the same villain, so it feels like it's a single story told through 4 books instead of being a series of standalones with the same MCs. Don't ask me to choose between the two series because I won't. I also haven't read the last book of this series because I'm waiting to move to NY and buy it in paperback. Still, I re-read this series every time a new book comes out. It's amazing how it never gets boring. I always squeal in the same parts, swoon in others and get my heart torn out in some certain strategic points.
This series doesn't need introduction. All I'm gonna say is that it was my obsession during my Middle School years.
Would I re-read them now? No, I wouldn't. I don't read fantasy anymore, especially since there isn't a romantic focus.
Another very well-known series. I read these a lot during my first years of high school. Would I re-read it now? Mmmh… no. I don't think it's a bad series per se, but I've read it too many times as a teen and, on the other hand, I know better now. It gripped me at the time because it was my first romance-oriented book. Now that I've read plenty of romances, I don't think going back to this would give me the same feelings. It's like my romantic tolerance threshold got too high for these books. Also, again, it's YA.
Sorry about every disjointed-ness and weird sentences. I'm writing this while my family is watching the Water Sports Olympics and discussing it WITH ME. So I'm typing and discussing divers and trying not to get too distracted by their abs.
---
Now hop and see what other bloggers wrote about this:
The World Was Hers For The Reading